In July of 1976, John Cripe (JC) and Jerry Amsden began building high quality pontoons in North Webster, Indiana. A few years later, John's son, Kim Cripe, joined the company. Today, Kim continues to independently own and operate J.C. Manufacturing, Inc.
To achieve consistent JC quality requires two factors. First, only the very best components may be used; and second, complete control of the production process must be maintained. Unlike many other manufacturers who must rely on countless outside suppliers, J.C. Manufacturing is very self-sufficient. We are proud to say that all major components, rail systems, upholstery, pontoon tubes and bimini tops are made by us. These in-house capabilities give us control over the final quality of every JC Pontoon. What does this mean to you? Every boat with the JC name will deliver trouble-free performance and top re-sale value, year after year.
Compare the JC Difference
If you are seriously researching our boats, then you have already ruled out the majority of pontoons currently on the market. You are now comparing us to the three or four premium manufacturers that build a pontoon in our price and quality range. There are many good pontoons in our price range. As you make your buying decision, we wish to point out a few of the standard and optional features on our pontoons that truly make the JC difference.
Tubes bolted directly to the structural cross-members with heavy stainless steel bolts and lock nuts.
All Spirit and NepToon SuperTubes have baffles and are pressure tested to assure that they are air-tight [NO foam] before leaving the factory.
Aluminum bottom skin is standard on all three-tubed models.
45 gallon fuel capacity is standard on all NepToon TT, SportToon TT and Spirit TT models.
JC pontoons have standard rails finished with durable, attractive white or black powder coating.
JC bimini tops are made of Sunbrella®.
Top-of-the-line waterproof Clarion AM/FM/CD is standard on all JC pontoons. (Spirit uses 3 1/2" diameter AM/FM/iPod interface)
"Designer Series" carpeting is stretched and stapled to the deck rather than glued.
Solid extruded aluminum skid bar welded to all JC tubes.
Bow cabinet "pods" with built-in SS lights. (SportToon)
Sirius satellite radio is standard on SportToon and is optional on NepToon.
JC TriToon Marine Advantage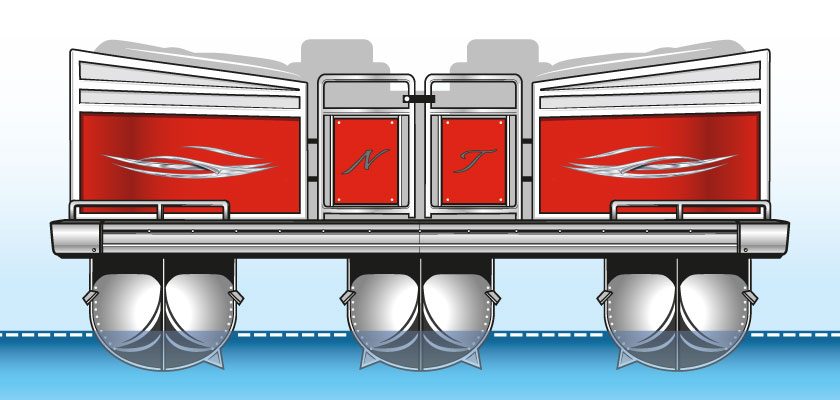 TriToon™ Sport Hull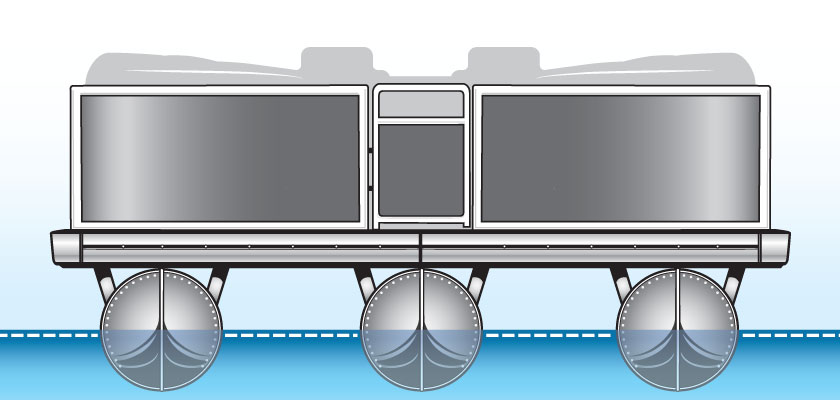 The Competition
U-shaped pontoons offer greater volume and carrying capacity (1-2 person increase on average). Ride higher and drier. U-shape prevents water from getting on top of pontoon and weighing it down. Traditional round tubes used by competitors yields to more resistance and decreases the boat handling because the hull sits deeper in the water.
Cross frames are bolted directly to pontoons offering unmatched durability and strength. U-shaped tubes have no stress on welds, like round tubes have, because U-shaped tubes are bolted directly to cross members which increases the structural integrity. They are NOT bolted to a bracket that is then welded to the tubes which reduces the structural integrity of the overall boat.
Full length center pontoon on ALL TriToon/Three Tube boats adds performance and quality of ride versus the partial third tube that is offered by some competitors.
The TriToon Sport tube hull and tube design includes additional design innovations that reduce water loads and allows for nearly seamless, cut-through performance.
Traditional round tubes used by competitors yields to more resistance and decreases the boat handling because the hull sits deeper in the water.
Pontoons Engineered for Performance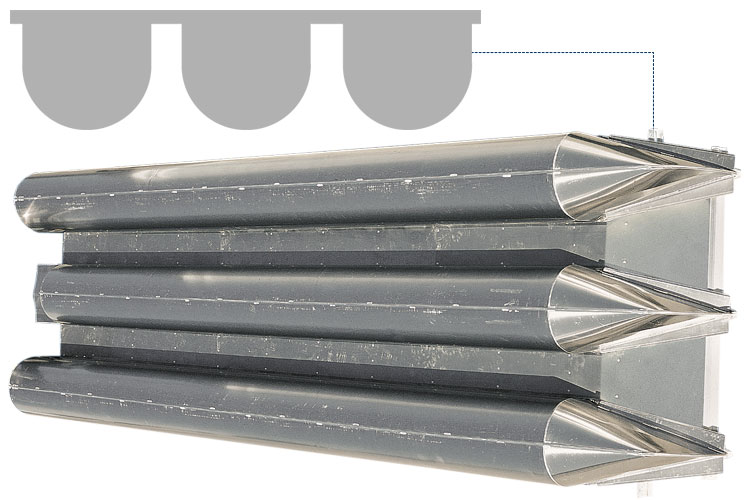 TT (TriToon) Hull
The TT (TriToon) hull uses three tubes (24" x 24" ) with the transom integrated into the center tube. This hull design features a standard in-tube 45 gallon fuel tank, aluminum bottom skin and optional in-tube ski storage. The TT (TriToon) hull is standard on the NepToon TT, SunLounger TT and Spirit TT.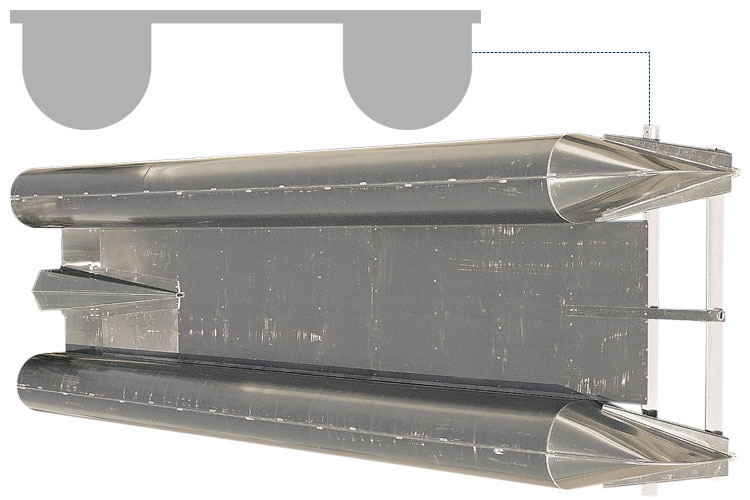 Standard (twin tube) Hull
The standard hull for Spirit is the twin tube (24" x 24") hull. The optional aluminum bottom skin is recommended for horsepower over 70.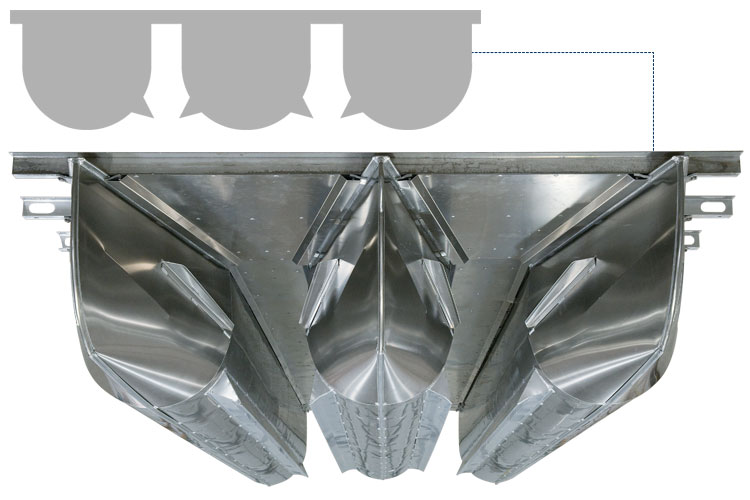 TriToon Sport Hull
The awesome TriToon Sport hull adds our exclusive lifting fin design to the TT (TriToon) hull. Our TriToon Sport hull not only increases top end speed but also yields handling that is as quick and precise as any sport boat. This hull features a 45 gallon in-tube fuel tank and optional in-tube ski storage. The TriToon Sport hull is standard on the SportToon TT, NepToon Sport TT, and SunLounger Sport TT. Lifting fins are an available option on the NepToon TT and SunLounger TT.
Quality Pontoon Tubes
JC TriToon Spirit, NepToon, SportToon and SunLounger tubes are constructed of .100 gauge marine aluminum with a .125 nose cone – the strongest on the market.
JC Tube
Tube has more flotation than a 25" round with an advanced U-shaped design.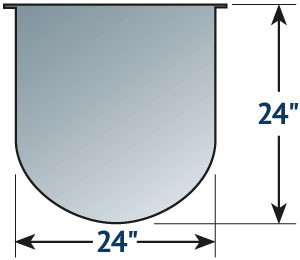 JC Spirit / NepToon / SportToon / SunLounger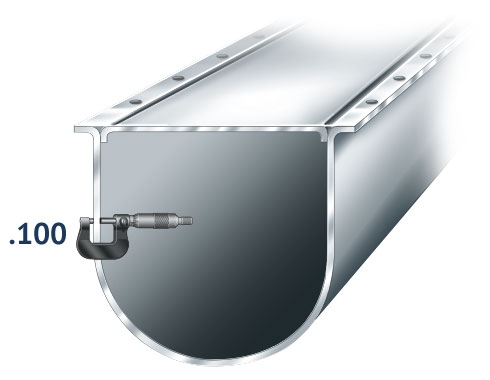 Industry Standard